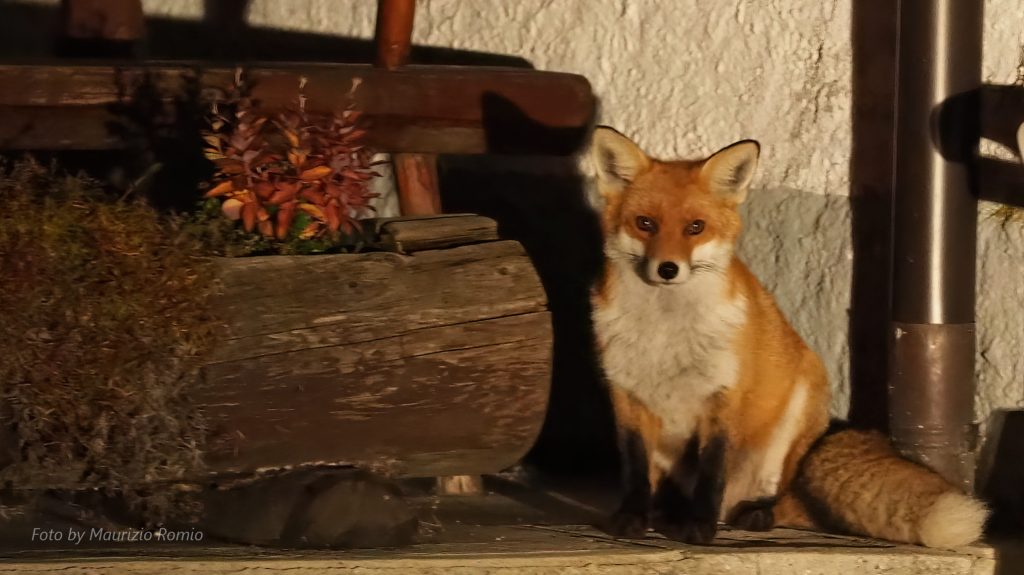 In una notte di ottobre 2022 sto percorrendo in auto la strada statale 349 nei pressi del Comune di  Asiago in provincia di Vicenza quando davanti a me a lato della strada  vedo muoversi velocemente quella che può sembrare la sagoma di un cane e mi dico "è forse un lupo?".
Rallento l'auto e aiutandomi con la luce dei fari guardo in direzione verso dove avevo visto indirizzarsi l'animale. Con mia grande sorpresa vedo fermo ad osservarmi un bellissimo esemplare di volpe rossa. Emozionato prendo velocemente la mia macchina fotografica Olympus OM-D E-M10 Mark III  abbinata ad un obiettivo Olympus M.Zuiko ED 75 mm F 1.8 e scatto alcuni fotogrammi nella speranza che nonostante le precarie condizioni di luce il risultato di questi scatti sia soddisfacente.
A red fox at the bar
On a night in October 2022 I am driving along State Road 349 near the municipality of Asiago in the province of Vicenza when ahead of me on the side of the road I see what may appear to be the silhouette of a dog moving quickly and I say to myself, "Is it maybe a wolf?"
I slow the car down and helping myself with the light of the headlights I look in the direction where I had seen the animal heading. To my surprise I see stopped and observing me a beautiful specimen of a red fox. Excitedly I quickly grab my Olympus OM-D E-M10 Mark III camera combined with an Olympus M.Zuiko ED 75 mm F 1.8 lens and take a few frames in the hope that despite the precarious light conditions the result of these shots will be satisfactory.